COMFORT & QUIET
SPACIOUS DESIGN
GENTLE WIND
COSY HAVEN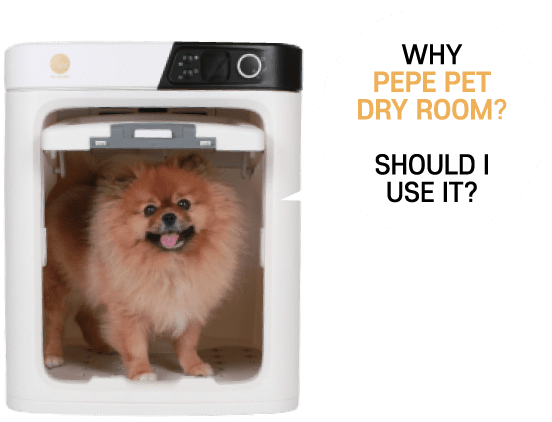 1  DESIGN THAT FITS ANY SPACE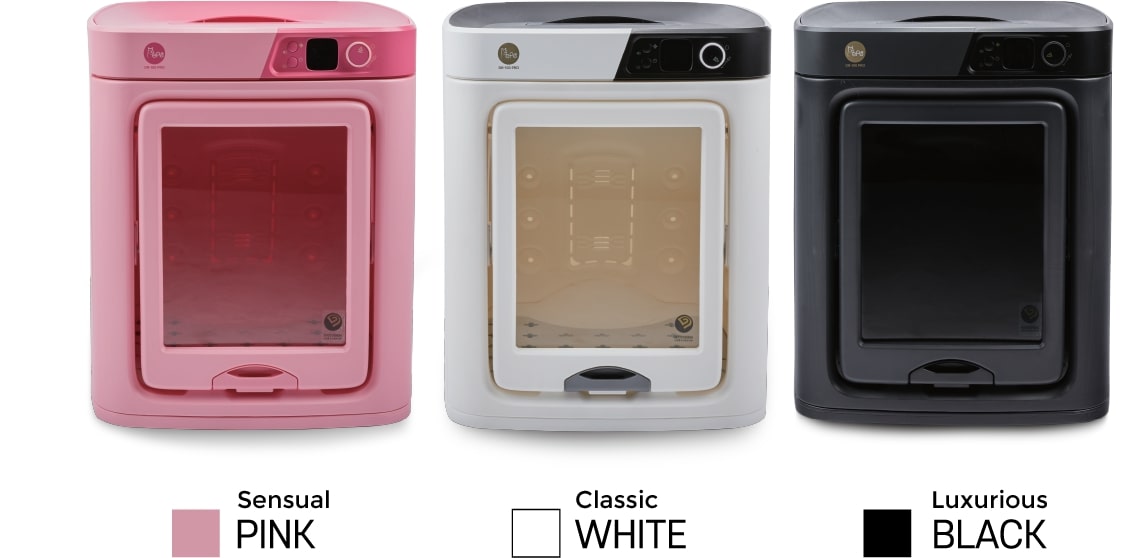 2  9 SMART OPERATING MODES 3  7-WAY AIR CIRCULATION DESIGN
The face shouldn't be dry.
The face should be moisturized.
Pepe's inner technology
is thinking from the
perspective of pets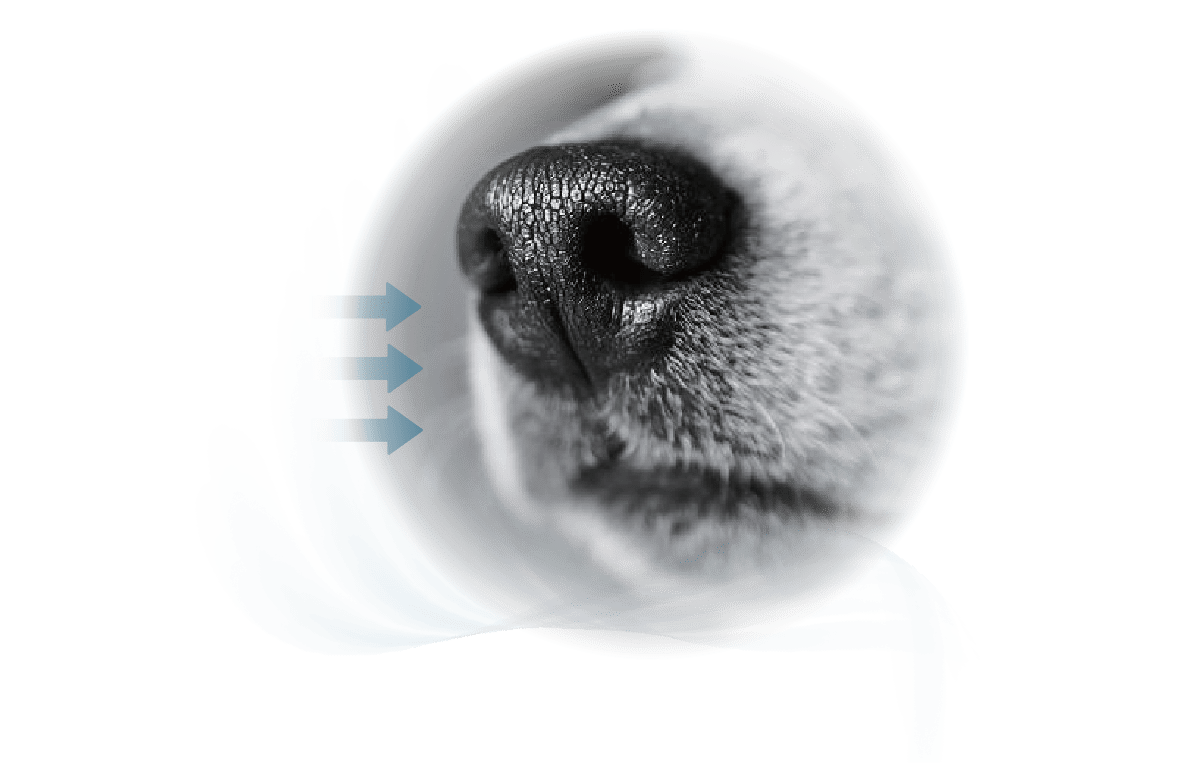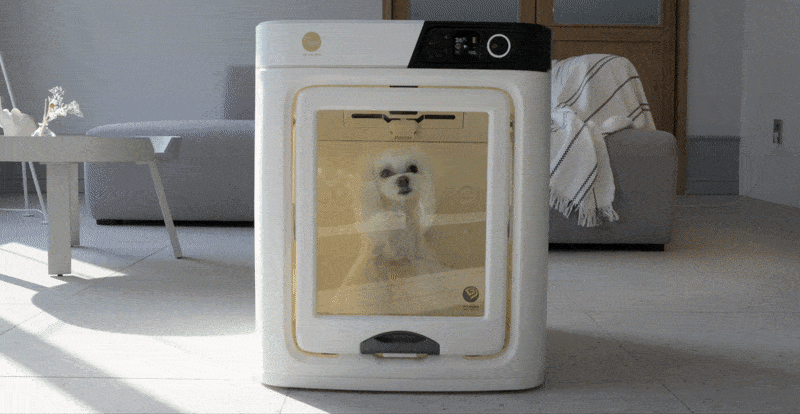 PEPE'S DR-100PRO ALLOWS AIR TO
CIRCULATE IN SEVEN DIRECTIONS
IT IS DESIGNED TO AVOID DIRECT WIND ON THE FACE
4  PRECISE AAT AND SAFETY DUAL SENSOR
GENERAL ON/OFF CONTROL METHOD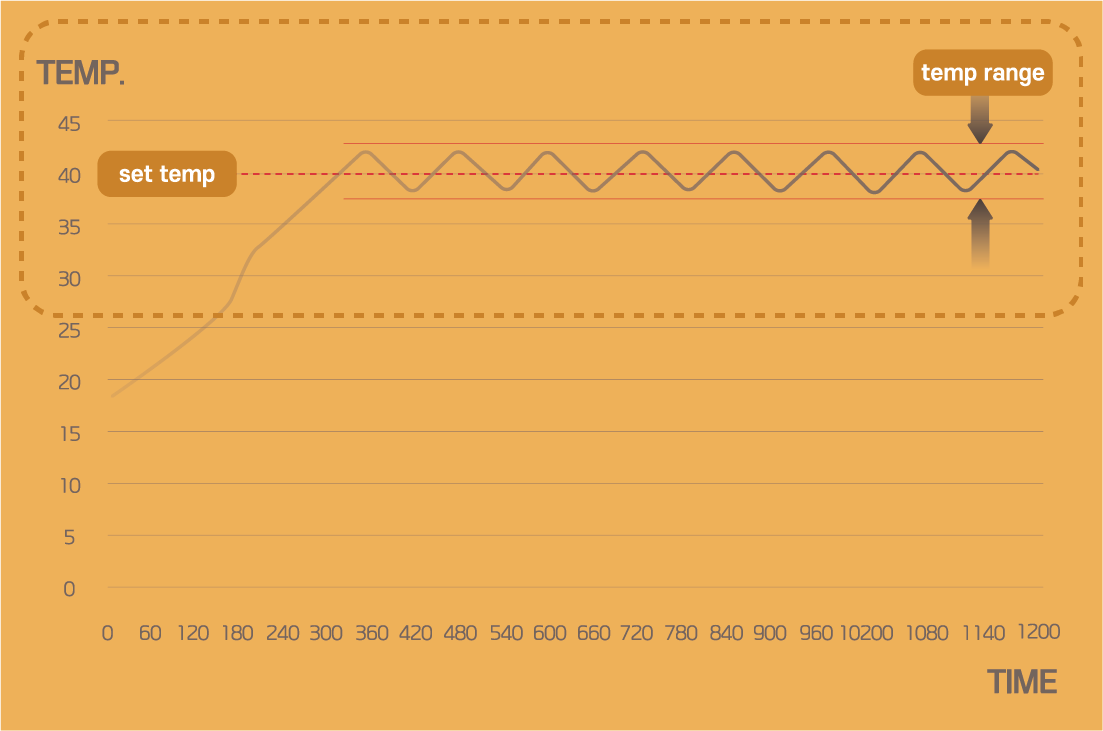 PRECISE AAT OUTPUT CONTROL METHOD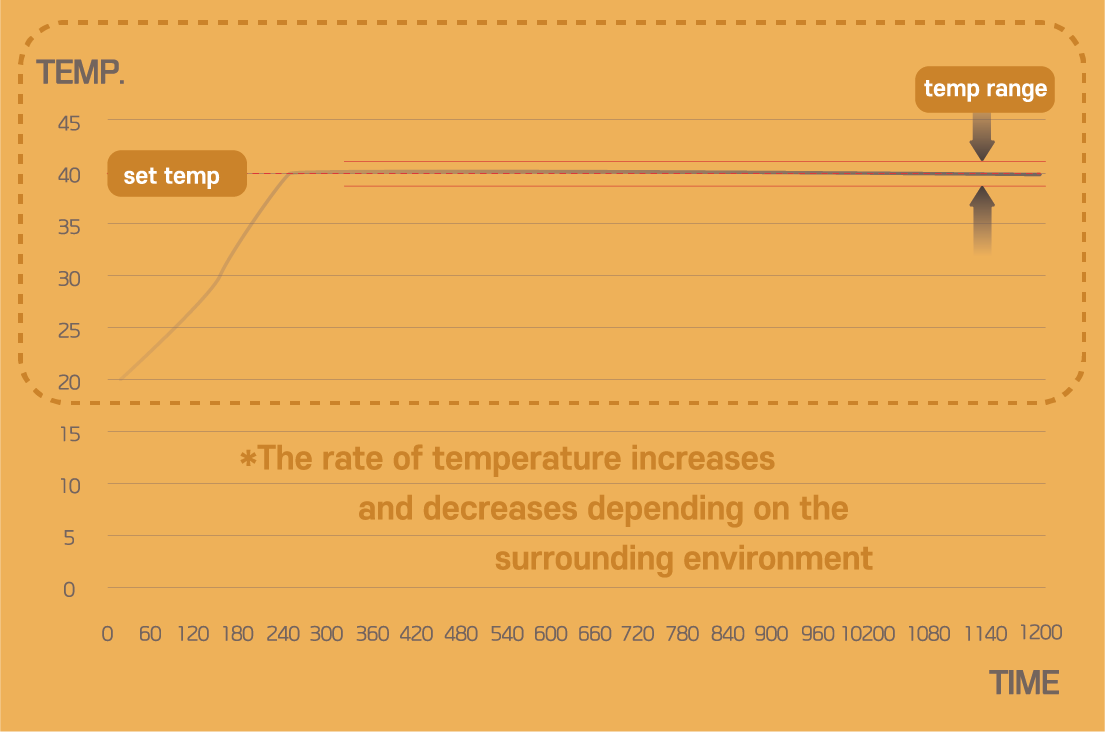 5  OPEN DOOR AND ZERO STATIC PRESSURE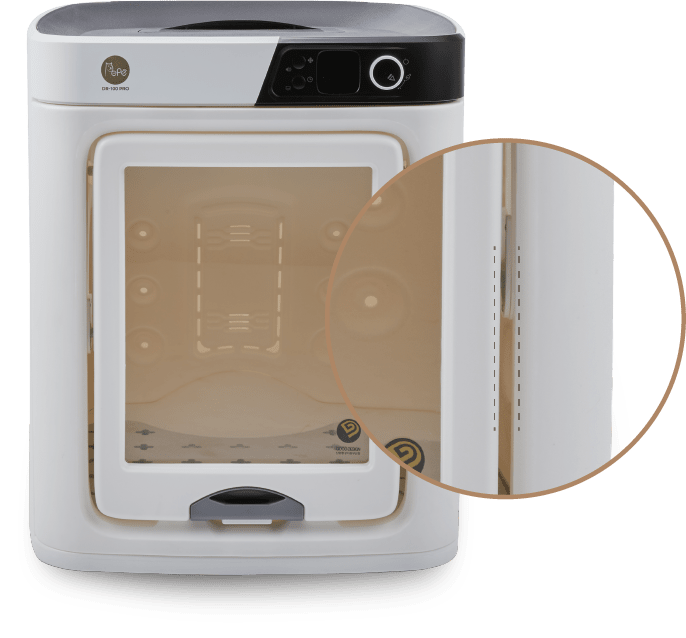 When the space is sealed
and the air or noise is
completely blocked,
the pet's anxiety rises.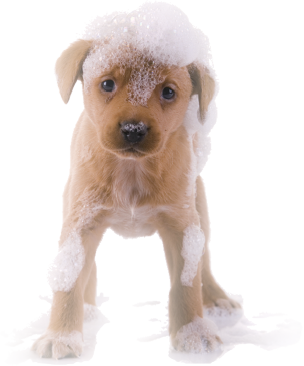 Air that is supplied and
circulated inside the dry
room enters through the
all-in-one filter.
The pressure system
controls the pressure
generated inside the dry
room and prevents hair
from blowing through
the gaps in the door.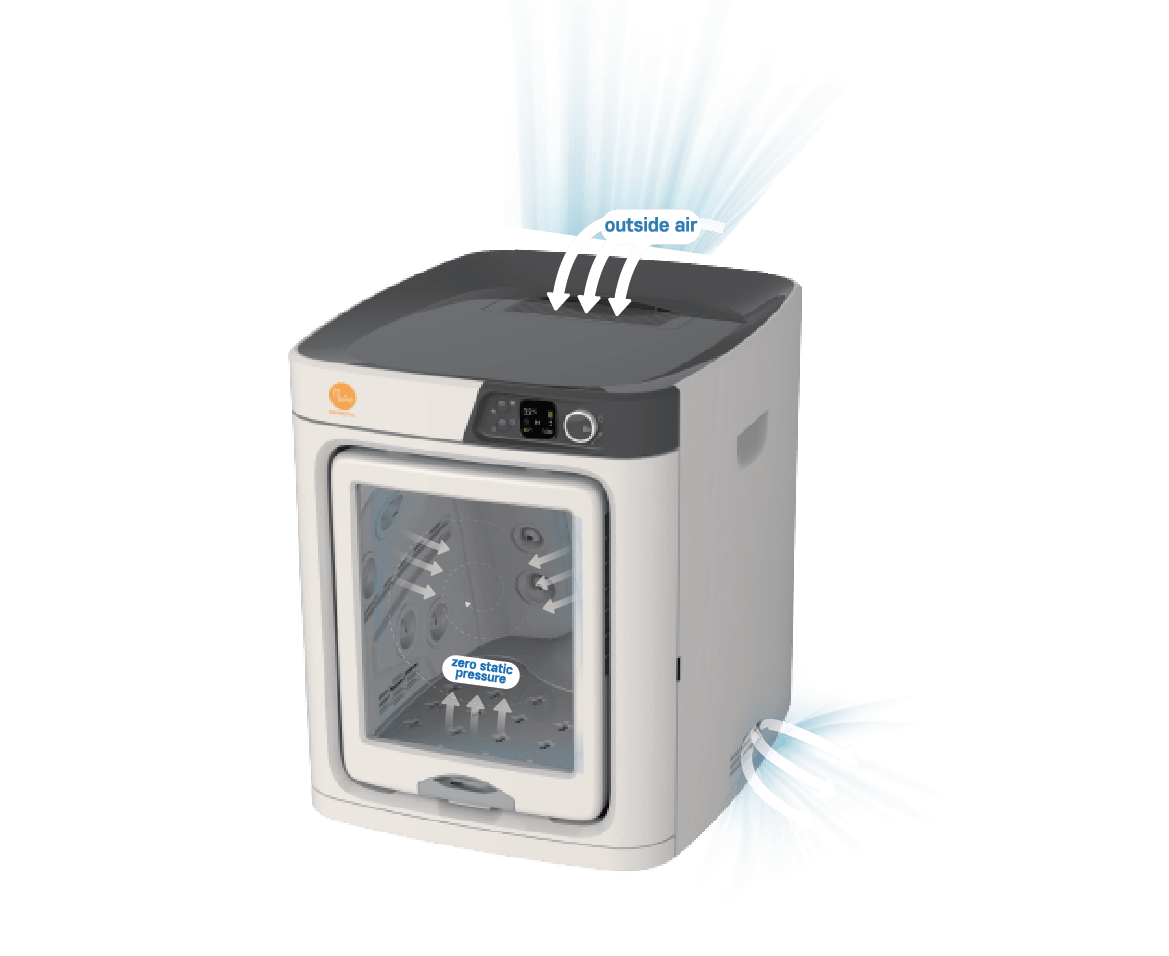 6  WHITE NOISE IN LOW-FREQUENCY RANGE
White noise reduces the high-frequency noise that is

uncomfortable for pet's sensitive hearing!
Lower it one step further!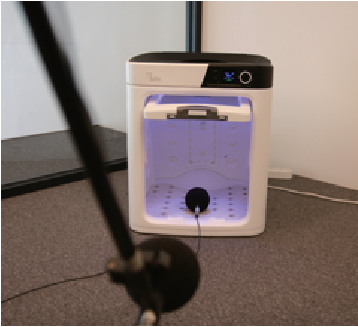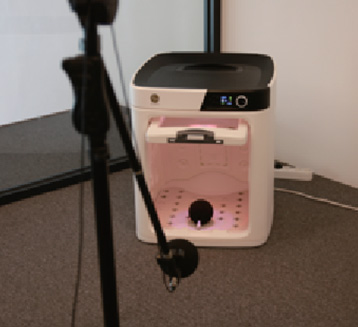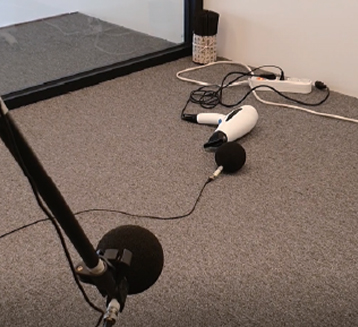 COMPARISON OF NOISE RANGE BASED ON THE SAME AIR VOLUME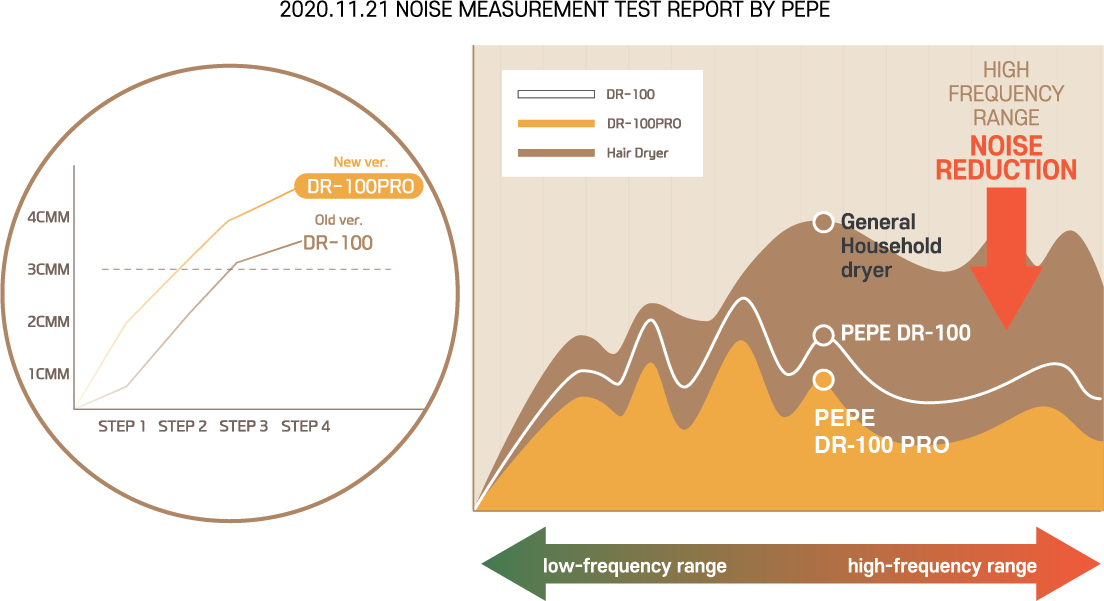 7  STRONG MOISTURE ABSORBING BIOPAD
When you pour water on your pet, the water slides on its fur and goes into its lower body parts and legs.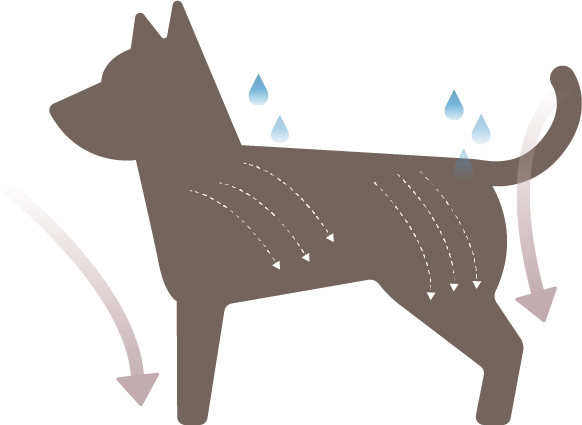 The biopad strongly absorbs the water from the lower body parts and legs of your pet and dries them quickly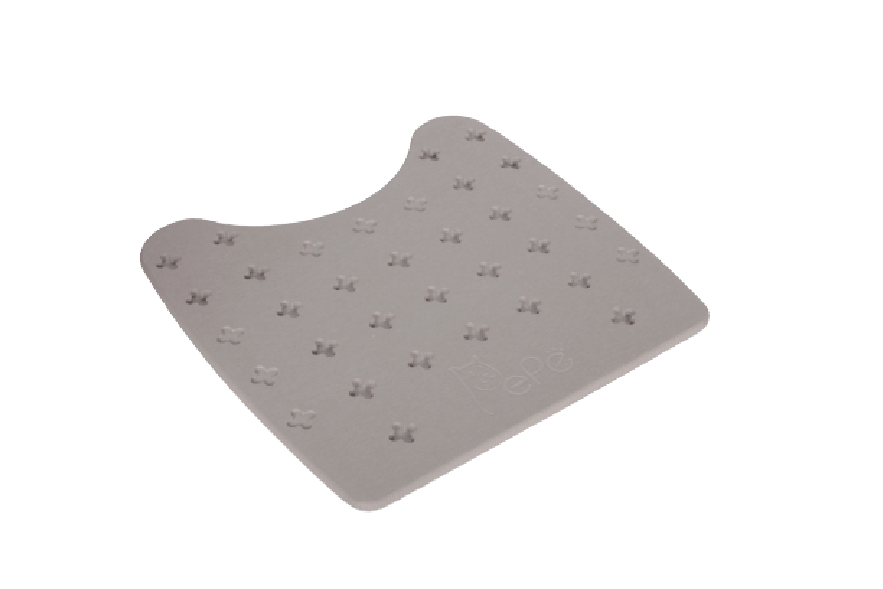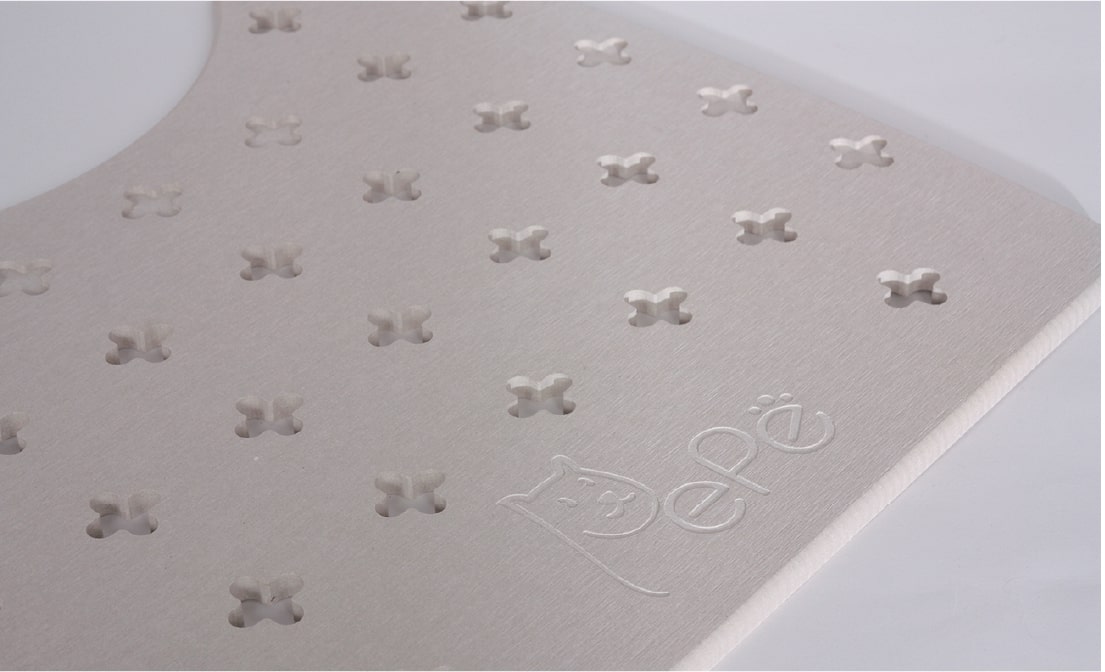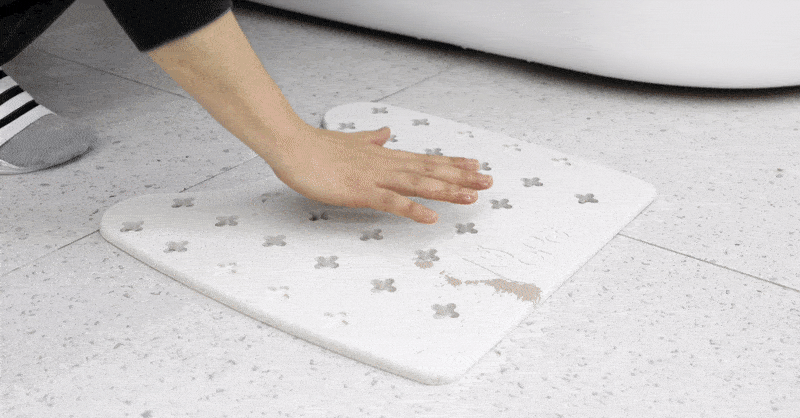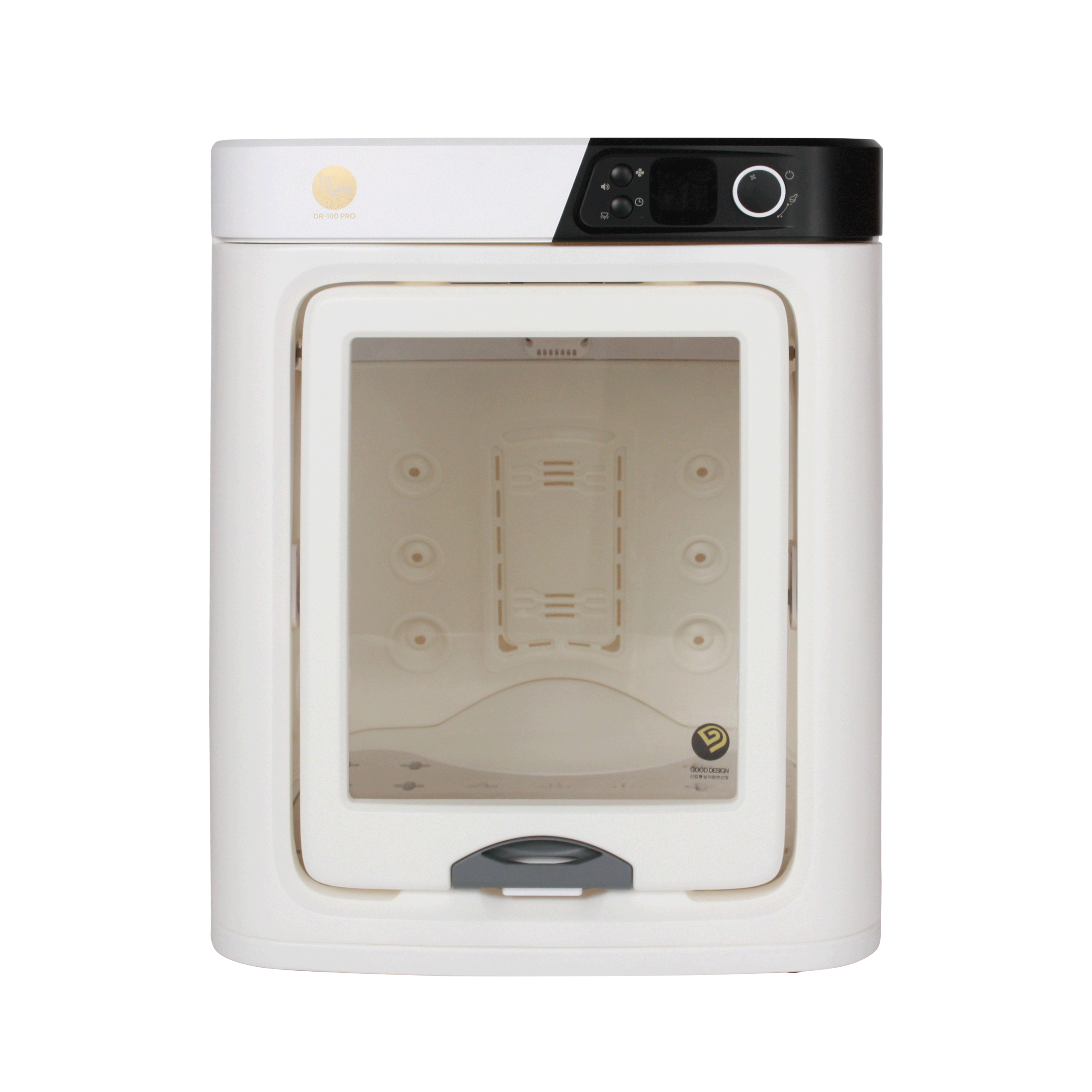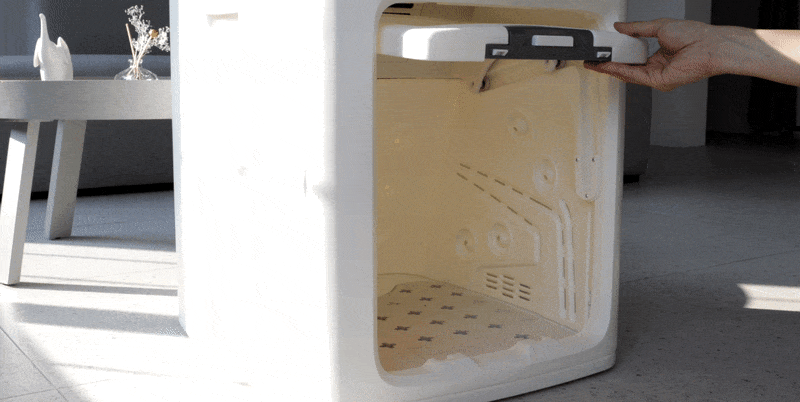 Comfort and Protection at the same time with SLIDING DOOR STOPPER!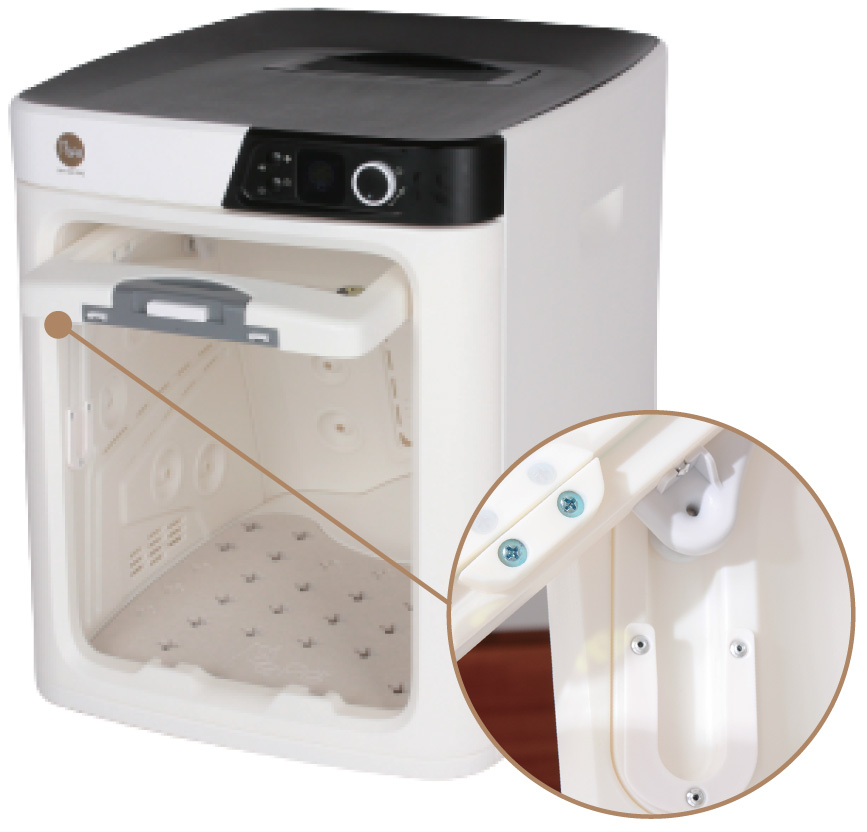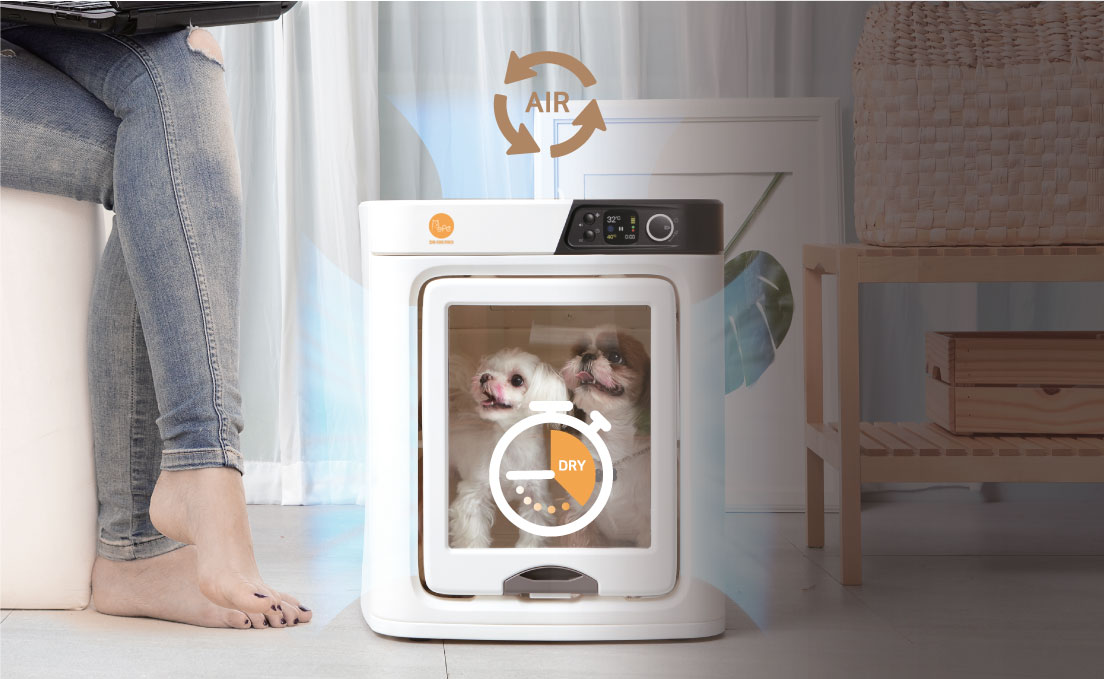 PEPE'S DR-100 PRO FAN DOES NOT STOP IMMEDIATELY EVEN AFTER THE DRYING TIME. IT KEEPS YOUR PET SAFE BY CONTINUALLY CIRCULATING THE AIR.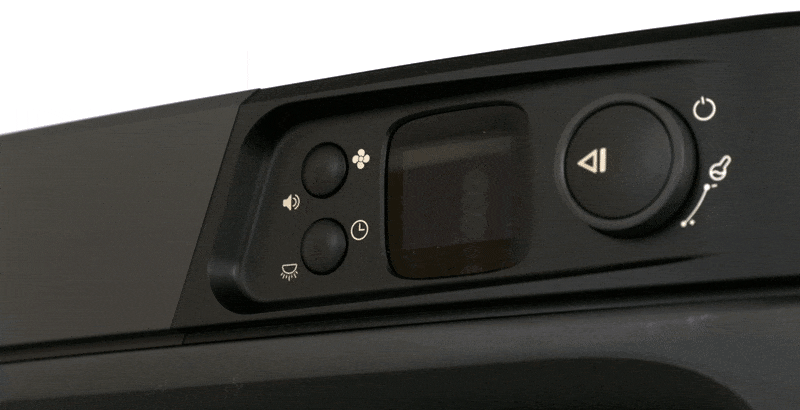 10  TRIPLE FILTERING SYSTEM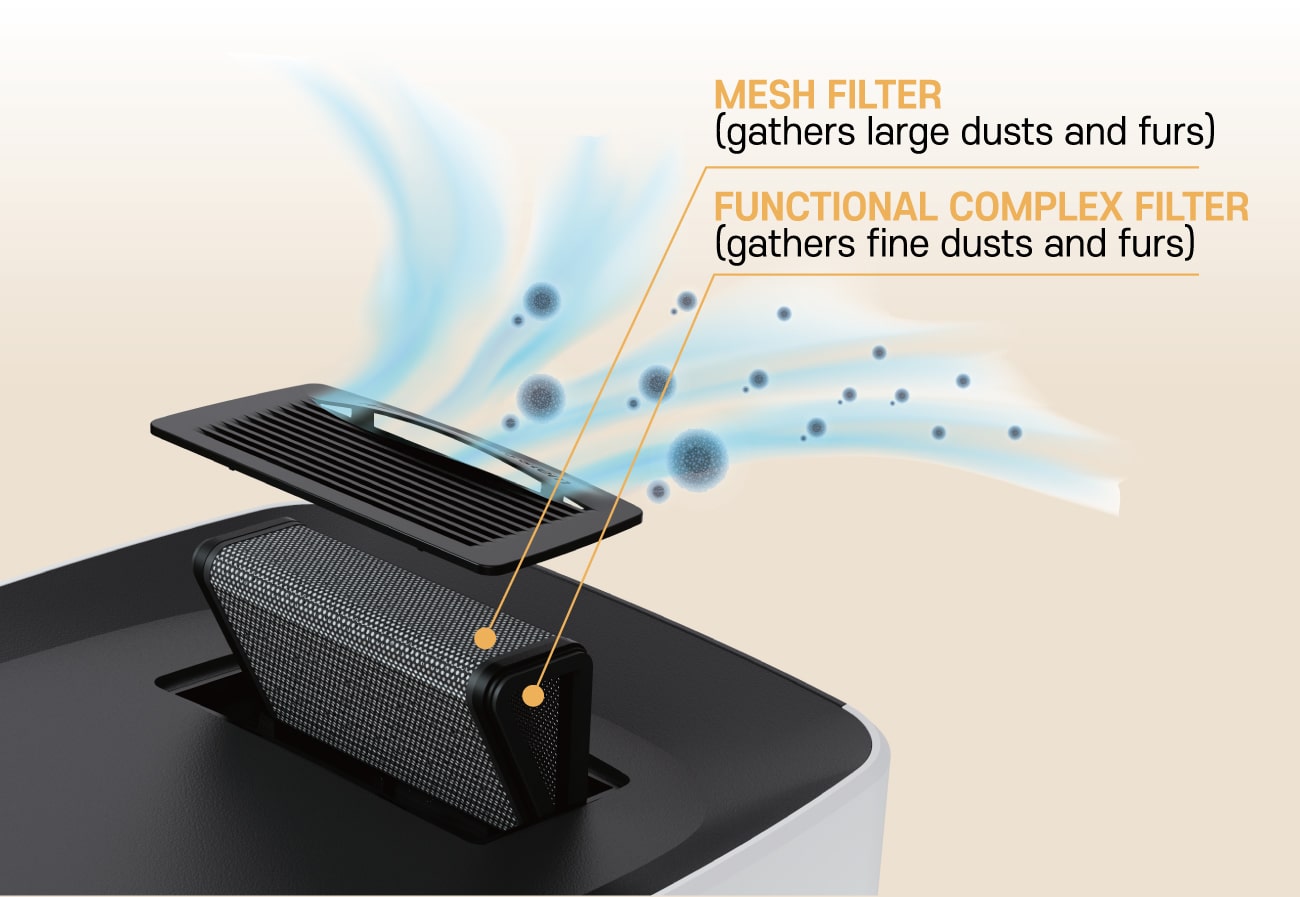 HAIR IS COLLECTED BY THE FILTER INSIDE THE DRY ROOM FOR EASY DISPOSAL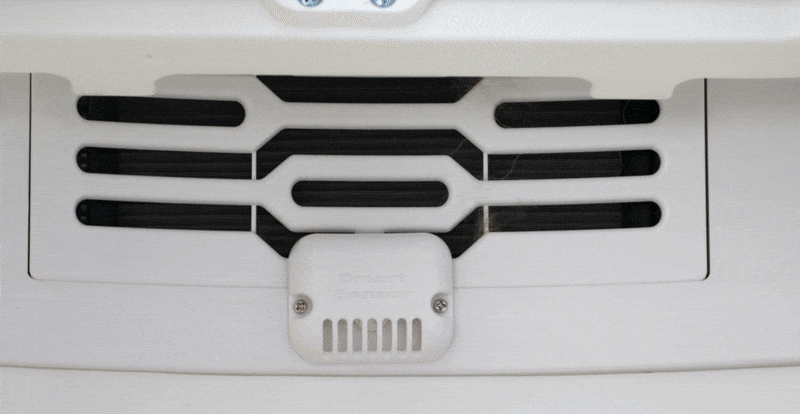 WHEN USING THE GROOMING PAD, PUSH THE FUR IN THE FILTER IT WILL COLLECT THE FLOATING HAIRS AND FURS OF YOUR PET.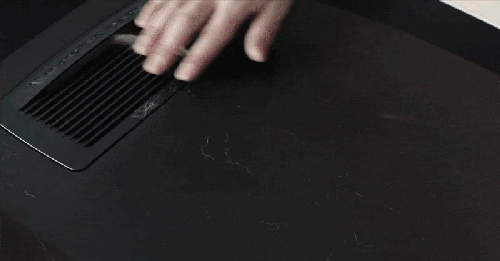 MESH FILTER + FUNCTIONAL COMPLEX FILTER (HEPA + CARBON)

11  AUTO UV STERILIZATION MODE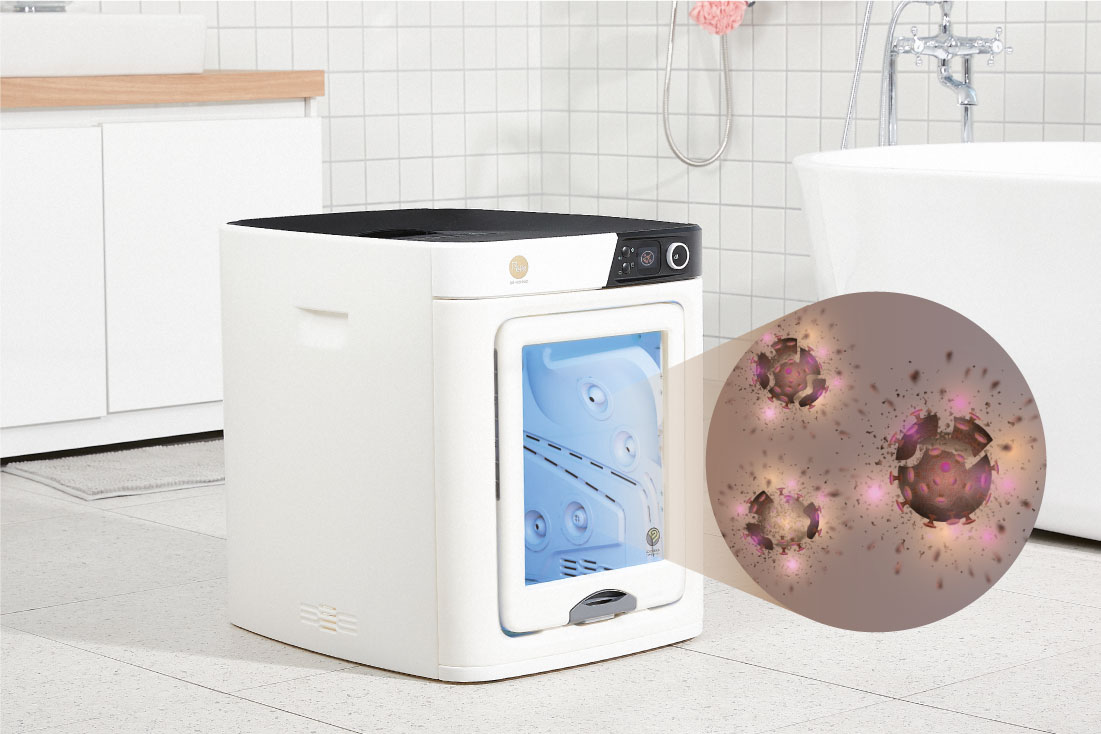 UV-C LED AND HOT AIR STERILIZES THE INSIDES OF THE PET DRY ROOM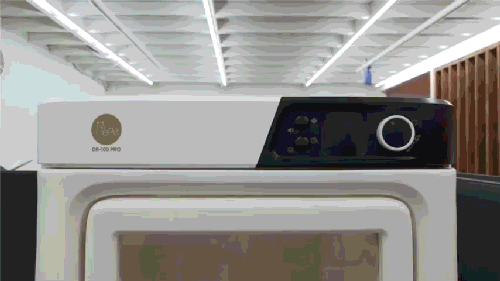 CAUTION! Be sure that your pet is out of the dry room and close the door to prevent UV-C from being directly irradiated to the eyes or skin
12  PTC HEATER FOR AIRCRAFT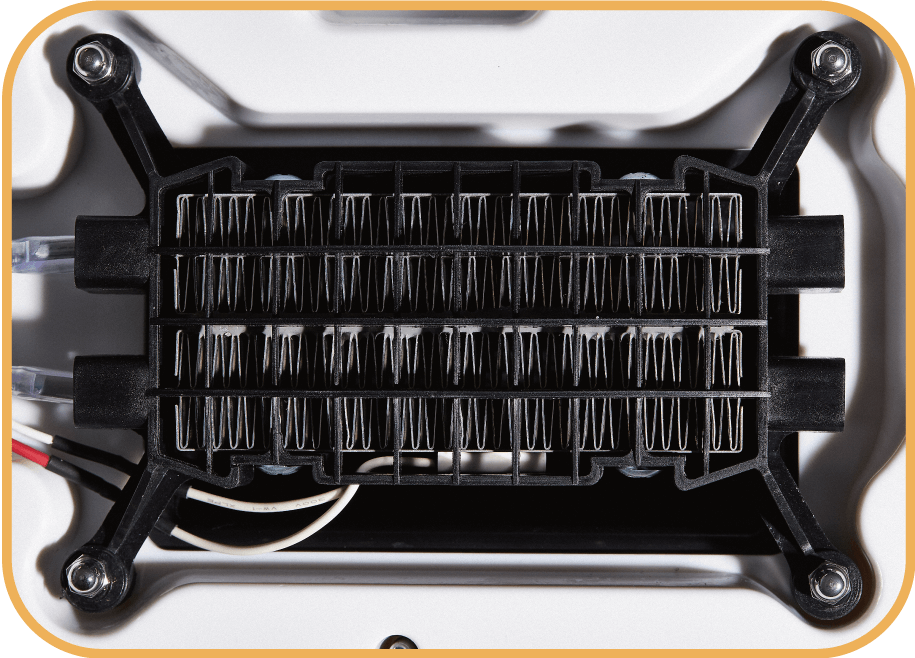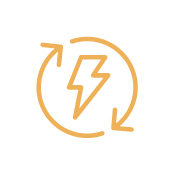 FAST THERMAL RESPONSE SPEED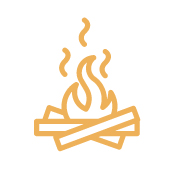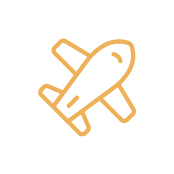 13  NON-TOXIC HDPE MATERIAL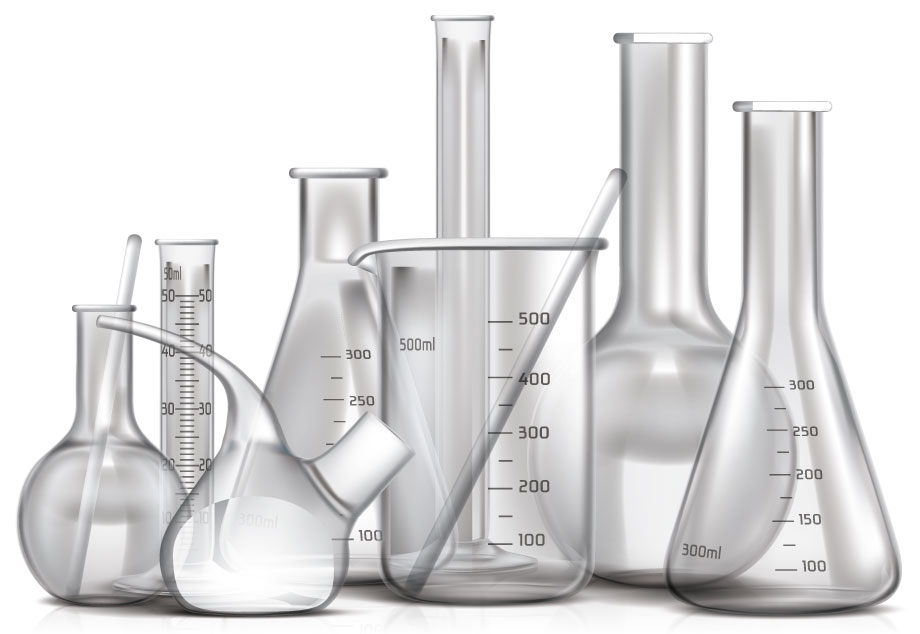 [HDPE] HIGH-DENSITY POLYETHYLENE, LABORATORY MATERIALS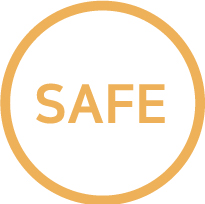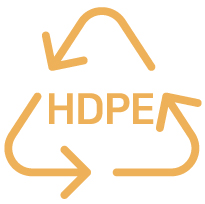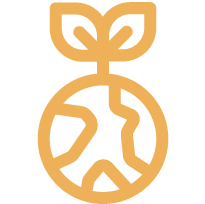 14  WHOLE SEPARATION & WASHABLE STRUCTURE
All parts except the main module can be completely disassembled to wash and clean!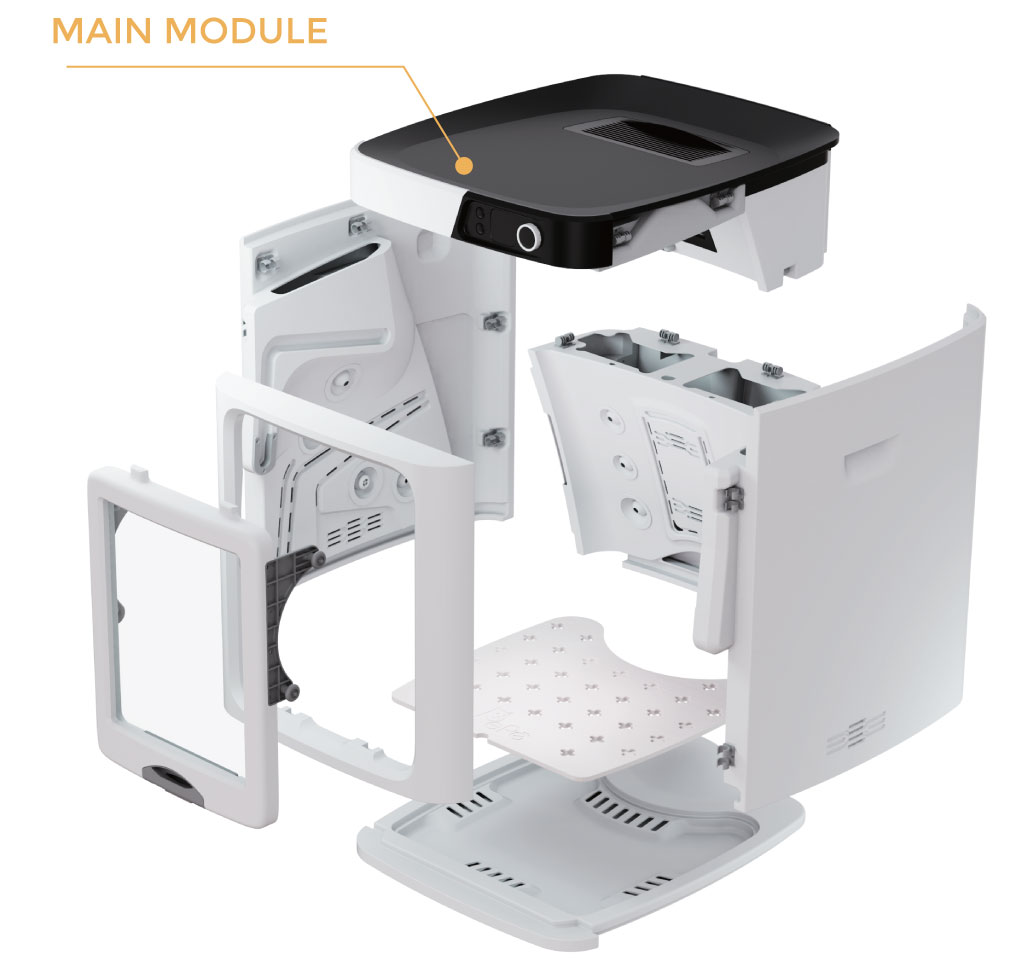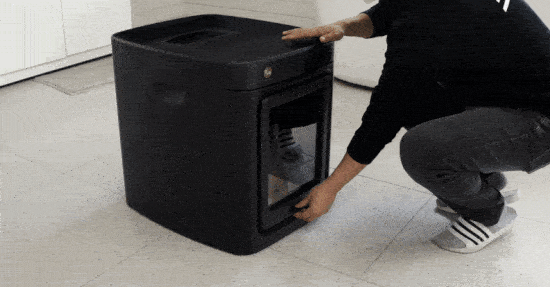 The floor plate which is often contaminated can be Easily removed and clean.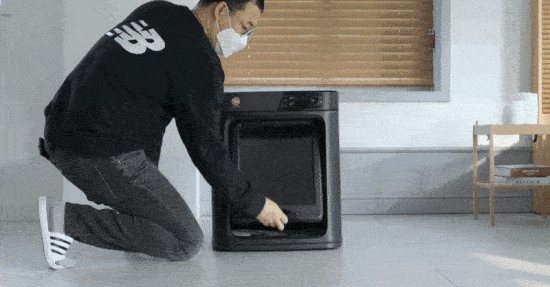 Separate and wash like this so you can use it clean everyday!
The noise isn't loud and the temperature can be controlled. I regret not buying it immediately
It was hard to wipe and dry their feet before, but now it is really comfortable. I really recommend it. The wind comes out from the bottom.
I got used to it in a day, closed the door, and dry my pet right away. So good. I usually use it as a pet house with the door open.